Coffee Nata Online
We saw a significant rise in online food ordering, especially during pandemics. People just love getting food from their favorite restaurant whilst they sit on their couches in pajamas. Here is a fun fact for you, by the end of 2030, the online food ordering industry will reach $365 billion. It is time to jump on the bandwagon and get your food delivered to your place online. After the pandemic, people are opting for lighter food and snacks for themselves, therefore, people are more inclined towards bakery items. Now during pandemics, we saw so many trends on the internet for example da longa coffee and banana bread, one such item was the coffee nata online or also better-known as pastel de nata. It is a pure Portugal dish that has been here and loved by people since the 19th century. Now the coffee nata are taking States by storm. You can find these in every bakery and shop. The love for the coffee nata has transcended the borders. If you haven't tried it yet, it is time to buy coffee nata's online.
Gone are the days when you have to call up the restaurant or bakery and have them write down your order. Skip all the call anxiety and download the latest apps or go directly to the bakeries and place an online order. If you are really craving the coffee nata and just want to taste its creamy texture, then there is no time in taking out the recipe and baking it, it's time to buy coffee nata online from the best bakery. The online food delivery process has made it super easier to order food online with just a click. Achieve optimum customer satisfaction and high-quality food within minutes. The coffee nata are now available almost everywhere, thus, yes you can buy coffee nata online pretty easily. Such virtual ordering is preferred by everyone.
You must be aware of the online process but if you are someone who does not have any idea what basically a coffee nata is, it is a pastry that has a crispy surface and is filled with custard that keeps it so warm and tasty. It is one of the buzzy and trendy pastries that has been making rounds on the internet and as soon as you come across one, your stomach will automatically growl with hunger. The pasteis de Nata are from Portugal and are an affordable snack that can be consumed anytime and anywhere. Pair it with a nice warm cup of coffee and enjoy the best time in winter.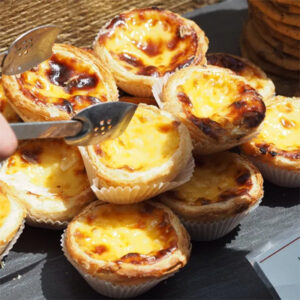 If you are already craving and salivating while looking at the picture of the coffee nata, then it's time for you to pick up your phone and buy coffee nata online as soon as possible. Once you will open the app or bakery, you will see the different types of snacks available from different types of bread, pizza, sandwiches, muffins, coffee nata, and much more. Each and every snack is very appetizing.
There is no denying that online ordering or buying coffee nata online is very easy but when you will come across so many options and bakeries, choosing the one might be overwhelming and confusing. Blame it on laziness or convenience, the online ordering does bring happiness and easiness but still choosing from which bakery to order is difficult. However, one big advantage of buying coffee nata online is that once you will open the bakery, you will find a complete menu over there. With just one scrolling, you will be able to go through the entire menu within minutes and you will be in no rush to make or place an order. Therefore, take your time and buy coffee nata online at very affordable prices. For your convenience, here we have bought you the two best bakeries from where you can get authentic and best coffee nata.
Modern Pontes Bakery
The bakeries in the States are on rising and they are making some of the delicious and creamy nata's daily. The modern pontes bakery is dedicated to bringing you the best coffee nata's that are made with high-quality ingredients such as eggs, flour, sugar, and cream which brings the perfect soft and warm texture in it. Other than the wide range of coffee nata's, they also offer a great selection of bread, donuts, pastries, and muffins.
Starbucks
Nothing is better than Starbucks, we all know this. If you really want to buy coffee nata online, it's time to order Uber eats and get the perfect and creamy coffee nata from Starbucks. Their products are very well made and enjoyed by everyone. It's time to satisfy your cravings with the best coffee nata's you can get from Starbucks. Their sophisticated and well-maintained website allows you to easily choose and go through the entire menu online. Moreover, their website also highlights the discounts, promotions, and key products, helping you to locate what you want within seconds.